The Early Decades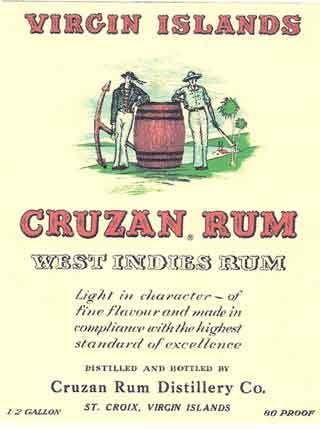 As a distinct brand name and a specific rum, the origin of Cruzan Rum can be traced to January, 1934, when The Diamond Rum Company was founded, for the purpose of distilling and selling Cruzan Rum, by the Malcolm Melchior Skeoch family on St. Croix, US Virgin Islands following the repeal of Prohibition. The company took its name from Estate Diamond, in Prince's Quarter, Frederiksted, St. Croix, which was purchased by Malcolm Skeoch in 1910 from F. Lunney, Planter, and A. E. Stakeman, Lawyer, executors of the estate of the deceased Thomas Hewitt (Please see Mortgage Bond & Ledger (1910) under Attachments). At the time of the 1910 purchase, St. Croix was part of the Danish West Indies. In addition to serving as the Skeoch family residence, Malcolm purchased Diamond to be a "working estate", cultivating cane, pasturing the needed livestock, and manufacturing sugar and rum.
Estate Diamond, which was bankrupt at the time of the 1910 purchase, totaled 425 acres of which 280 acres had previously been in sugar cane cultivation and 145 acres in pasturage for working livestock. It featured the customary Great House (planter's residence, in this instance known familiarly as Diamond House); a village (workers quarters); the remains of a windmill, as well as a functioning steam mill (successive technologies used to crush sugar cane); and a "works" (boiling house) with a defunct pot still. Skeoch set about the task of renovating and reactivating the estate.
Molasses is the principal by-product of cane sugar and an essential ingredient in the manufacturing of rum. Throughout Danish sovereignty, many large sugar estates on St. Croix had their own stills and made their own rum. The number of active distilleries on estates noticeably declined during the last quarter of the 1800s. It should be noted that the practice of assigning a distinctive name (or brand) for the purpose of marketing any rum distilled on St. Croix was unknown until the 20th Century. The phrase "Crucian (or Cruzan) rum"—note the lower case for "rum"—was originally only a generic reference to the rums distilled on St. Croix. An estate literally branded its barrels of sugar, molasses, and rum for export with the name of the St. Croix estate. Prior to the early 1930's, Cruzan Rum, either as a brand name or specific rum, was unknown. There are several versions stating why the name was spelled Cruzan as opposed to Crucian. According to Gordon Skeoch (who helped his father, Malcolm, create Cruzan Rum) the name was based on Santa Cruz which St. Croix had previously been named by Columbus in 1493 when it was discovered and subsequently briefly owned by Spain. "Cruzan" was also felt to have more marketing appeal.
The United States formally acquired the Danish West Indies for strategic reasons on March 31, 1917. This change of sovereignty was generally welcomed by the planters on St. Croix, since the U.S. had long been the principal market for their agricultural products. Hopes for economic revitalization failed to materialize mainly for two very different reasons. Six days after the purchase of what was thereafter known as "the Virgin Islands of the United States," the U.S. abandoned its neutrality and entered World War 1 on the side of the Allies. Less than seven months later, a persistent temperance movement in the United States prevailed politically and a resolution calling for a Constitutional amendment to achieve Prohibition was presented in Congress. That resulted in the 18th Amendment (Prohibition) being introduced in 1918, ratified in 1919, and enforced beginning January 17 1920. Prior to that however, a temporary Wartime Prohibition Act was passed on November 18, 1918. The Volstead Act, which allowed for the enforcement of the 18th Amendment, was passed in 1919. Not until December 05, 1933 could alcoholic beverages be legally commercially distilled, transported or sold, anywhere within the United States or its possessions. (The operative word is "legally".)
The American experiment with Prohibition was a failure, and ended with its repeal by the 21st Amendment on December 5, 1933. Anticipating this repeal, Malcolm Skeoch and his son, Gordon, had been zealously repairing and upgrading the distillery at Diamond which had been seriously damaged by the violent 1928 Hurricane. Consequently, when the 21st Amendment was signed, the Skeochs were ready and the first batch of Cruzan Rum was rolled out on January 06, 1934 at Diamond Distillery on Estate Diamond in Frederiksted, St. Croix.
A few years prior to this event, at the height of the American Depression and Prohibition, Malcolm had suffered a heart attack and, Gordon, age 15, had had to leave school in Antigua, and return home to help support his family. He continued his education via correspondence and obtained a business degree. From 1931 until 1944, Gordon, in addition to helping his father on weekends with the creation and running of Cruzan Rum, also worked full time during the week at Rob't. L. Merwin & Co. in Frederiksted, in a managerial position, despite his young age.
By the end of Prohibition (December 1933), most of the pot stills/ distilleries in St. Croix were permanently defunct. When The Diamond Rum Company was first formed in 1934, Malcolm M. Skeoch and his wife Annie owned it, and, Malcolm and his son Gordon struggled to produce Cruzan Rum.
Simultaneously, at Hermon Hill in Christiansted, Malcolm Kenneth Armstrong (Malcolm Skeoch's nephew), who owned Santa Cruz Distillers, along with Armstrong's business partner and investor, Victor Gibeon, manufactured Santa Cruz Rum.
It is unclear from the available records whether or not R. Selwyn Fleming (Malcolm Skeoch's nephew) invested in, and worked at, The Diamond Rum Company at this initial time, although it is clear that, two years later in 1936, Selwyn Fleming was an integral part of the formation of St. Croix Sugar Cane Industries, Inc..
In 1936, while retaining their separate company identities, Malcolm M. Skeoch of The Diamond Rum Company, and, Malcolm K. (Harry) Armstrong and Victor Gibeon from Santa Cruz Distillers, together with R. Selwyn Fleming in St. Croix, and Howard M. Wall from Portland, Oregon formed a corporation, St. Croix Sugar Cane Industries, Inc., for the purpose of marketing and distributing the St. Croix rums in the United States. Given his age and difficult family financial circumstances, Gordon Skeoch was not a financial investor until 1941.
In 1943, Gordon's younger brother, Miles M. Skeoch, (having helped out at the distillery since childhood) began working in the Skeoch family owned and operated Diamond Distillery"(aka Cruzan Rum Distillery), and subsequently came to manage the Barreling and Bottling Plant division there. He also became an officer and investor in St. Croix Sugar Cane Industries, Inc. (aka Cruzan Rum) during a later restructuring of the company in 1953.
Initially, in the latter 1930's and early 1940's, a large building in the town of Christiansted was used as the distribution center for St. Croix Sugar Cane Industries, Inc.. Therefore, at times, between 1936 and 1944, "Christiansted" was used in the address of St. Croix Sugar Cane Industries, Inc., whether it was distributing Cruzan Rum from Diamond Distillery in Frederiksted, or, Santa Cruz Rum from Herman Hill Distillery in Christiansted. Rums produced in the two distilleries were marketed under separate labels, respectively, Cruzan Rum, and, Santa Cruz Rum. Early documents give evidence to the importance that was placed on advertising Cruzan Rum as a unique brand name from its earliest days. In 1936, there was a Copyright Registration of the distinctive Cruzan Rum label ("Design consisting of barrel with two men against background of tropical scenery") issued to St. Croix Sugar Cane Industries Sales Corp of Portland, Oregon, (a marketing, sales, and distribution division, located in the northwestern United States, for St. Croix Sugar Cane Industries, Inc.). Howard Wall, who was the distributor for Cruzan Rum in Oregon, Idaho, and Washington, lived in Portland, Oregon, and was assigned the duty of obtaining the copyright for Cruzan Rum. With Cruzan Rum projected to have wide circulation in the United States, protecting its brand name and its distinguishing label became essential. This label and brand name were used exclusively for Cruzan Rum, distilled at Diamond Distillery. The brand name of Cruzan Rum remains to date, but the label is different. Its well-known and popular label of the 1930's enjoyed easy recognition for approximately sixty years, until Cruzan Rum's acquisition in 1993 by Todhunter International, at which point new labels were introduced and frequently changed. Also different today is that Cruzan Gold (aged 4 years) and Cruzan White (aged 2 ½ years) are now known as Cruzan Dark and Cruzan Light (instead of Gold and White). The "old time" rum recipes use the original names.
Initially, three types of Cruzan Rum were produced: Clipper Rum (which was 120 Proof), Cruzan Gold (dark rum, often referred to as just Gold Label), and Cruzan White (light rum, frequently called White Label). All three were refined, aged in oak barrels, and did not have the heavy molasses taste found in many of the West Indian rums. Initially, Cruzan Gold and Cruzan White sold on St. Croix were 86 Proof. However, when selling to the States, they were sold in bulk (barrels) to the distributor (at that time Bellows & Co.), who then bottled and sold it there in strengths of 80 Proof. Later on it was sold as 80 Proof on island too. Clipper Rum was sold in bottles of 120 Proof both in St. Croix and off island. The proof of an alcoholic beverage is double the percentage alcohol in it. So, an 80 Proof rum is 40% alcohol.
Although all Cruzan Rum was made only on the Skeoch Estate at Diamond Distillery, not all rum made there was bottled under that name. Some of the rum manufactured at Diamond Distillery (and distilled identically to the rum bottled as Cruzan Rum) was sold as bulk rum to other companies. Those companies then bottled it under their own brand name, sometimes even mixing it with other rums first. However anything with the label of Cruzan Rum was assured to be the pure product that had been carefully distilled, refined and aged at Diamond Distillery in wooden barrels that were charred on the inside.
As The Diamond Rum Company matured, administrative restructuring occurred. In 1941, Victor Gibean sold his shares in St. Croix Sugar Cane Industries Inc. to Gordon Skeoch, and, his shares in Santa Cruz Distillers at Herman Hill to the investors of St. Croix Sugar Cane Industries Inc.. Subsequently, Santa Cruz Distillers merged with The Diamond Rum Company. (Both companies had comprised the corporation, St. Croix Sugar Cane Industries Inc.).
In 1944 St. Croix Sugar Cane Industries, Inc. was dissolved as a corporation, and a partnership d/b/a/ St. Croix Sugar Cane Industries was formed and operated principally at Estate Diamond in Frederiksted, producing Cruzan Rum and sugar cane. The Articles of Partnership, dated July 01, 1944 were signed by Malcolm M. Skeoch, Robert S. Fleming, Malcolm K. (Harry) Armstrong, Gordon M. Skeoch, and Howard M. Wall. (In 1953, during another restructuring, it went back to being a corporation.)
The cable address for St. Croix Sugar Cane Industries (both as a partnership, and later when it again reverted to a corporation) was "Industries", and as a result the Cruzan Rum business was frequently referred to as such by the owners in everyday conversation and informal business until it was sold in the 1960"s
When health concerns forced Malcolm Skeoch to take a less active administrative role in the Company, the reins of management were transitioned initially through his nephew Robert S. (Selwyn) Fleming, and then on to Malcolm Skeoch's middle son, Gordon M. Skeoch, who had been involved with the reopening and operation of Diamond Distillery from the beginning.
For the majority of the Industries' duration, Gordon Skeoch ran the company, implementing many upgrades to Cruzan Rum. Gordon's wife, Carmen D. Skeoch, as Office Manager in the 1940's and 1950's, met the organizational, clerical, and bi-lingual needs of the growing company. Carmen Skeoch was later succeeded by Jessie Wilson whose efficiency and faithfulness were legendary. Miles Skeoch ensured the smooth, continual functioning of the Barreling and Bottling Plant.
During the latter part of the 1940's decade, Cedric C. (Ceddie) Nelthropp, noted for being extremely adept in mathematics, was employed by the Skeochs, initially to help reduce Malcolm's workload by assuming the bookkeeping. Shortly thereafter, Ceddie Nelthropp's duties expanded to include working in the distillery at Diamond, and subsequently, in 1953, becoming an officer and shareholder in St. Croix Sugar Cane Industries, Inc..
In 1959, Donald C. (Hardy) Nelthropp was recruited from Portland, Oregon by Gordon Skeoch. Gordon's letter of hire to Hardy dated May 14, 1959 succinctly illustrates the practical as well as the intangible aspects of Hardy's proposed move back to St. Croix including working at the Industries. A dynamic picture of long hours, challenges and financial struggles for entrepreneurs in the islands was portrayed. Also projected was confidence for growth and success. Insights into Gordon's work ethics, leadership and devotion to the welfare of his company were gleaned. These traits were instrumental in encouraging a potential new employee, as well as in laying a sound foundation for future success. In keeping with the terms of the 1959 letter, Hardy Nelthropp subsequently joined and became an officer and partner in the company. This descriptive letter capturing the realities of being a West Indian sugar cane grower and rum distiller in the late 1950's is offered as an attachment with Hardy Nelthropp's consent.
In 1951 Gordon Skeoch divested himself of all private business interests, and temporarily left St. Croix Sugar Cane Industries for two years to assume the presidency of Virgin Islands Corporation (VICORP), a role critical to the welfare of the Virgin Islands. Its predecessor, the Virgin Islands Company (VICO), was chartered by the federal government in 1934 to promote the economic revitalization and advancement of the Virgin Islands. Gordon resumed the presidency of St. Croix Sugar Cane Industries in 1953, and continued to serve in that capacity until 1964 after selling the last shares of his company to Schenley Industries, Inc..
In December of 1953 the partnership d/b/a/ St. Croix Sugar Cane Industries, going through a major reorganization, was dissolved and immediately re-formed once more as a corporation, St. Croix Sugar Cane Industries, Inc.. The new investors, now known as incorporators, who signed The Articles of Incorporation dated December 16, 1953 were Gordon M. Skeoch (President) owning 53% of the corporation, Cedric C. Nelthropp (Vice-President) with 29%, Miles M. Skeoch (Treasurer) having 15%, and Warren H. Young with 3%. Of the previous investors and partners, only Gordon Skeoch remained. Victor Gibean left in 1941, while Malcolm Skeoch, R. Selwyn Fleming, Malcolm (Harry) Armstrong and Howard Wall sold their interests to the above incorporators in 1953. At that time, Gordon Skeoch had been part of the Cruzan Rum enterprise from its inception in 1934 (actually, even prior to its creation), and an investor since 1941. Miles Skeoch had been managing the Bottling Plant for approximately ten years (the early 1940's), and became an investor in 1953. Ceddie Nelthropp had been working at Cruzan Rum since the latter 1940's, and became an investor in 1953. Nelthropp previously worked at VICORP before joining Cruzan Rum, which provided him substantial experience with the sugar cane industry. The fourth incorporator of St. Croix Sugar Industries, Inc., Warren Young, served as the attorney for the corporation. All investors/ incorporators also served as officers in the company.
During the 1953 reorganization of St. Croix Sugar Cane Industries, Inc., many farming diversifications were added to the rum and sugar cane business. In keeping with this diversification, one of the early critical decisions made by Gordon Skeoch, in his capacity as President of the company, was to help save the livestock business in St. Croix by committing St. Croix Sugar Cane Industries, Inc. to take over both the lease and the management of the Abattoir (slaughter house) which was about to close since it had been operating at a loss for several years. The closing of the Abattoir would mean an end of the livestock industry in St. Croix since at the time there were no means of shipping live animals to off-island markets. While it was obvious that there were inherent risks in assuming the added responsibility of taking on an outside failing business, the owners of St. Croix Sugar Cane Industries, Inc. agreed that the risk to the overall welfare of St. Croix was a greater danger, so threw themselves whole heartedly into the rescue endeavor. Literally, the distillery at Diamond would be shut down for a week or two at a time, and while leaving only a skeleton crew behind, employees, including management personnel, would be transported to Christiansted to operate the Abattoir. Working in close cooperation with the farmers throughout the island, this practice continued for several years. Although obviously a challenge to the profitability and growth of St. Croix Sugar Cane Industries, Inc., the Abattoir venture allowed the livestock business in St. Croix to survive until viable and permanent arrangements could be made to ship farm animals "on-hoof" directly off island.
The Abattoir episode was characteristic of Gordon Skeoch's presidency of Cruzan Rum. Hardy Nelthropp, who later succeeded Gordon as President of Cruzan Rum, and who claims Gordon Skeoch as his mentor, often stated, "Gordon always told us, 'Never do anything to hurt the Virgin Islands. If you have to choose between the good of the company and that of the Virgin Islands, always put the good of the Virgin Islands first.'" Hardy Nelthropp took this to heart, and when he became President in 1982 he too adopted that as his motto.
Even though there was expansion and branching into various farming endeavors, the distillation of Cruzan Rum and raising sugar cane remained the primary focus of St. Croix Sugar Cane Industries, Inc. Prior to the days of Prohibition, rums of a less refined nature, primarily pot still rums, had been manufactured on sugar plantations throughout the island of St. Croix, including Estate Diamond. Practically every estate made some form of rum, and in fact, so much so was rum considered to be the preferred alcoholic beverage of the island, that liquor stores were known as "the rum shop". Under Skeoch management, pot still rum making at Diamond Distillery was converted to continuous column still production resulting in a refined high grade rum. This success was due, in no small part, to the contributions of a brilliant and renowned chemical engineer, Herminio Brau. For many years, Brau was in charge of the Rum Pilot Plant Laboratories in Puerto Rico, while simultaneously being engaged as the Head of the Law School at the University of Puerto Rico, and also, concurrently serving as Chairman of Seagram's, Puerto Rico. In the latter years of the 1950's, Brau was employed intermittently as a consultant to St. Croix Sugar Cane Industries, Inc. where he helped to enlarge and modernize the continuous columns stills, primarily designing new stripping columns, rectifying columns, fusel columns, and, heads columns. Stripping columns separated alcohol ("Hi-Wine") from the mash, discarding the mash and sending the Hi-Wine to the rectifying column where the finished distillate was removed. In this rectifying column also, heads (aldehydes) and tails (fusels) were fractionated and removed from the final product. These undesirable by-products were sent to their respective columns. In each column, (fusel columns and heads columns) water was added to each product. This enabled these impurities to be first separated, and then concentrated and discarded, subsequently leaving the good rum to be returned to the rectifying column to continue in the distillation of rum.
Up until the early 1960's, most of Cruzan Rum was shipped off-island either in barrels or cases of bottles, by Merwin Lighterage Company, which was a subsidiary of Rob't L. Merwin & Co.. The Merwin company was the shipping and insurance agent for Cruzan Rum, both as St. Croix Sugar Cane Industries and later VIRIL, until the mid 1970's. This business relationship was mutually advantageous. Rob't L. Merwin & Co., while benefiting from frequent and regular rum cargo, provided reliable and insured transportation for the valuable cargo, which in turn helped Cruzan Rum realize a viable future in off-island business.
In 1961, 80% of St. Croix Sugar Cane Industries, Inc. was sold to Schenley Industries, Inc. At the time of the sale to Schenley in 1961, the investors of St. Croix Sugar Cane Industries, Inc. were Gordon M. Skeoch, Cedric C. Nelthropp, Miles M. Skeoch, Donald C. Nelthropp, Sr., and Warren H. Young. Schenley changed the company's name first to Cruzan Rum Distillery (reverting to a previous name for the company) and then to Virgin Islands Rum Industries Limited (VIRIL). Considering that the entire island of St. Croix would be phasing out of sugar cane production by the mid 1960's, the name St. Croix Sugar Cane Industries would hardly be applicable anymore. However, considerations re the name change at this point was secondary to a more significant concern for rum distillers: namely that with an absence of sugar cane crops in the island, molasses now had to be imported in order to manufacture rum —– a noteworthy financial blow.
When Schenley bought St. Croix Sugar Cane Industries, Inc., the latter divested itself of agricultural and livestock division, focusing only on rum. The agricultural and livestock division was taken over by Diamond Corporation, a company founded and run by Gordon Skeoch for that purpose. Miles Skeoch, along with Ceddie and Hardy Nelthropp were also minor shareholders in this corporation.
In 1964, Schenley bought the remaining 20% of Cruzan Rum, then known as VIRIL. Also in 1964, Gordon Skeoch resigned as President of VIRIL, and increasingly directed his energies in the development of Diamond Corporation. At the same time, Schenley, to ensure continuity and the same level of performance in the rum company just purchased, asked Gordon to stay on as Chairman of the Board of VIRIL, which he did until 1976. Schenley openly recognized that Skeoch's standards for both precision and integrity had secured Cruzan Rum's reputation as a quality product, and enabled future expansion.
Transition
The end of the "Early Decades" in which the origin of Cruzan Rum occurred, was marked by the death of the original owners (Annie and Malcolm Skeoch), the sale of their home (Diamond Great House) to Schenley, and, the retirement of the rest of the Skeoch family as both principal owners and executive managers of their corporation. This transition took place between the mid 1960's and the mid 1970's, when, after the sale of Cruzan Rum to Schenley, Gordon resigned first as President of VIRIL in 1964, and then retired as Chairman of VIRIL in 1976. Miles Skeoch retired as Manager of the Barreling and Bottling Plant of VIRIL in 1976. Annie and Malcolm Skeoch both died at home in 1972, which was then later sold to Schenley. An Interview by WNAS in 1976 of Gordon and Miles Skeoch is attached depicting their sentiments and memories at retirement.
At that time, Cruzan Rum was still a relatively small company, producing a relatively small amount of rum. There were plusses and minuses to being such a small company, wholly owned by its own officers. It was easier to set standards and control the day to day operation of the company. Likewise, due to its small volume, avoiding impacting the surrounding area was less challenging to accomplish. On the other hand, while the smaller St. Croix Sugar Cane Industries, Inc (aka Cruzan Rum) was a distinct economic advantage to the then less populous St. Croix, it did not have the capacity to provide the tremendous and varied economic benefits to the island that Cruzan Rum, when later owned by large wealthy parent companies, was then able to do. As a matter of fact, none of the officers and owners in 1964, and prior to that, earned a salary commensurate with their position, talent and responsibility. However, credit should be given the new managers (Nelthropps) for wisely using the financial resources made available by the new outside owners (parent companies), and for generously contributing so much to the Virgin Islands in scholarships and other donations. These were discretionary donations from the local managers, not dictated by the parent company. Taking Gordon Skeoch's dictum of "Never do anything to hurt the Virgin Islands" to the next level, the Nelthropp management (having the funds available that the Skeoch family did not have) voluntarily donated large sums to the schools and other vital organizations of the Virgin Islands.
The Later Years
Since the retirement of the Skeochs, and as of 2009 (when this history was written), Cruzan Rum has been managed by two generations of the Nelthropp family, under a series of different owners. The first generation of Nelthropps was Cedric C. (Ceddie) Nelthropp and his brother Donald C. ("Hardy") Nelthropp, Sr.. The second generation of Nelthropps, Donald C. Nelthropp, Sr.'s three children, (Donald Jr., Gary, and Karen), together with Marvin Pickering, have been successfully managing Cruzan Rum as of 2009, and are expected to continue for many decades .
When Gordon Skeoch resigned as President of VIRIL in 1964, he was succeeded by Ceddie Nelthropp. With VIRIL enjoying the financial advantages of Schenley Industries, Inc. at that point, Ceddie was able to expand the physical plant at Diamond Distillery. Working alongside his workforce, Ceddie's hands-on style was recognized as highly effective in getting the best out his workers.
Miles Skeoch continued to manage the Bottling Plant until he retired in 1976, while Hardy Nelthropp, with his degree in engineering, quickly became expert in all areas in the art of distilling rum. At the same time, he was being groomed for executive responsibilities.
Another key player in the management of Cruzan Rum at that time was Gerard A. Byrnes who was with the company from 1964 through December 1990. Initially hired as an accountant, he quickly rose to Treasurer and Vice- President, shareholder, and Senior Vice- President. It wasn't long until it was discovered that Gerry was a hidden jewel. His skill and efficiency was recognized as a contributing factor to the growth of the company.
In 1982, Ceddie Nelthropp was succeeded as President of VIRIL by his brother, Donald (Hardy) Nelthropp, Sr., under whose guidance for the next 25 years Cruzan Rum greatly expanded in terms of growth, as well as in the development of new concepts and marketing strategies. He, too, prudently utilized the financial support and capital of the varying parent companies to their best advantage.
As Cruzan Rum grew exponentially during Hardy Nelthropp's 25 year tenure as President (going from producing 3.4 million gallons of rum in 1982 to 8.5 million gallons at the end of 2007), it contributed significantly to the economic growth of the Virgin Islands. This success was no small feat, since the company changed owners, names, and labels several times. There were six owners after Schenley between 1988 and 2008, (four of them while Hardy Nelthropp was president):
(1988) VIRIL Acquisition Partners, whose principal investors were from Schenley Industries,, Inc. Minor shareholders included Donald (Hardy) Nelthropp, Sr. and Gerard A. Byrnes from VIRIL, plus outside investors;
(1993) Todhunter International, a subsidiary of which was Florida Distillers;
(2002 ) Angostura Ltd. in Trinidad bought controlling interest from Todhunter;
(2005) V&S Sprit (Absolut);
(2008) Pernod;
(2008) Beam, Inc. Global Spirits & Wine;
Conclusion
The Turn of the Century …….Through 2009
In 2007, Donald (Hardy) Nelthropp, Sr. retired, leaving the second generation of Nelthropps (his three children– Donald Jr., Gary, and Karen–), and, Marvin Pickering, at the helm. Gary C. Nelthropp became President and CEO in 2007, and as such ran the company. His easy manner, promoting harmony, along with his competence, became critical to effective management since the company evolved into a complex international organization.
Donald C. (Donnie) Nelthropp, Jr., Vice-President of Plant Operations, remained responsible for the importation of molasses, without which rum could not be made. Additionally, he was in charge of the operation and maintenance of the entire physical rum plant.
Karen Nelthropp Low, as Hospitality and Pavilion Manager, continued giving tours of the distillery to hundreds of tourists every year, educating them on both rum production and its history. Her tours and lectures always concluded with a multitude of refreshments sampling the various rum flavors, as well as optional nonalcoholic beverages. Karen Low was also in charge of the Cruzan Legacy Tours which presented, in a more in-depth manner, the process and history of rum production for the purpose of educating sales representatives from the parent company, Beam, and other interested liquor companies. This information has proven beneficial to the marketing of Cruzan Rum not only in the United States, but abroad as well.
Marvin Pickering, with the firm for twenty-seven years as of 2009, first served in 1982 as Staff Accountant (a newly created position at that time), then Treasurer, Vice- President, and, ultimately as Senior Vice-President and CFO. During his watch, the company went from manual record keeping to a fully computerized financial record keeping system. His functions included not only financial duties but also overseeing Hospitality and Human Resources, as well as the financial aspects of Production and Processing.
In June, 2009, the owner of Cruzan Rum was Beam, Inc. Global Spirits & Wine, and, the name of the Cruzan Rum company in St. Croix was Cruzan VIRIL. It was projected to produce 10 million gallons of rum in 2009.
Cruzan Rum has long been internationally recognized as one of the world's great rums, the fulfillment of a vision begun seventy-seven years ago (1934) by the Skeoch family. Building upon the principles and foundation that for over forty years were solidly formed by the Skeochs, the subsequent management under the leadership of its officers, the Nelthropps and Pickering, has ushered Cruzan Rum into the third millennium and into a promising future of continued prosperity. There is every reason to anticipate that the origins of Cruzan Rum, duly recorded in history, will be followed by decades of prosperity for the company, propelling it into new ages of a mutually symbiotic relationship with the Virgin Islands so loved by the original owners and management, and by their successive management to date.
___________________
Sincere gratitude is given to the following people:
Jean Fleming, who shared her vivid memories of her father's (R.S Fleming) and Victor Gibean's early involvement in Cruzan Rum, and, the early days of Cruzan Rum;
An anonymous professional historian who was consulted, and generously donated expert knowledge based on hours of research;
Marvin L. Pickering who willingly hunted through the archives of Cruzan VIRIL and made available many of the records from which these facts were obtained;
Donald C. (Hardy) Nelthropp, who also provided records and documents on the history of Cruzan Rum, and additionally, supplied generally overlooked but verifiable memories, as well as explanations in rum production;
Robert L Merwin who tirelessly edited this brief history, and graciously contributed suggestions for its improvement;
and, various family and friends who provided insight, encouragement, and helpful ideas.
__________________
Certain records have come to light since the first edition of The Historical Origins of Cruzan Rum was published on the internet earlier in 2009. Accordingly, this edition contains clarifications and additions made possible by these documents.
Gwendolyn E. Skeoch
Copyright © 2020 Gwendolyn E. Skeoch All Rights Reserved